When I like something I share it with everyone I know. I LOVE the MyBodyModel app. Erica Schmitz has created a body positive program for creating an image that looks just like me…or you, or your friends, or anyone (women only, but she has a vision for men, too) you might be sewing for right now. I've told all my friends about this and they don't even sew! I've told my hairdresser, my sister, my husband and kids and daughters-in-law. Anyone who will listen. Now I am telling you, lovely blog readers.
I've not shared this about me on my own blog before, but from the time I first started making my own clothes, at age 12, all through high school and when I began college, I wanted to be a fashion designer. That dream ended when another one began when I met and later became engaged to my wonderful Mr. Romance. We set our goals of a life together and I eagerly put my dream aside for OUR life together.
Flash forward 48 years and I am a fashion designer…thanks to this app. MyBodyModel uses 21 body measurements to create an outline of your silhouette. I don't claim to be a great sketcher but with my body croquis created with the MyBodyModel app and using the Sketch Club app on my iPad I am able to draw clothing to see how it will look on my body. I can audition pattern views and colors and even input fabrics using another app that I love.
Thinking about what I might like to sew this summer I have been sketching like crazy. I've even learned how to use the Sketch Club app to create fabric and textures.
Here are some of my sketches.
I plan to make the Kalle Shirt dress using this lawn fabric.
Winslow Culottes in floral fabric.  For this sketch I photographed the floral print and then sketched the Winslow Culottes over it to see how it would look made up and on my body.
Mimosa Scoopneck T-Shirt and Eleonore Pull-on Jeans (hands-in-pockets drawn freehand)
Willamette Shirt and Style Arc Flat Bottom Flo Pants
Assymetrical tunic with leggings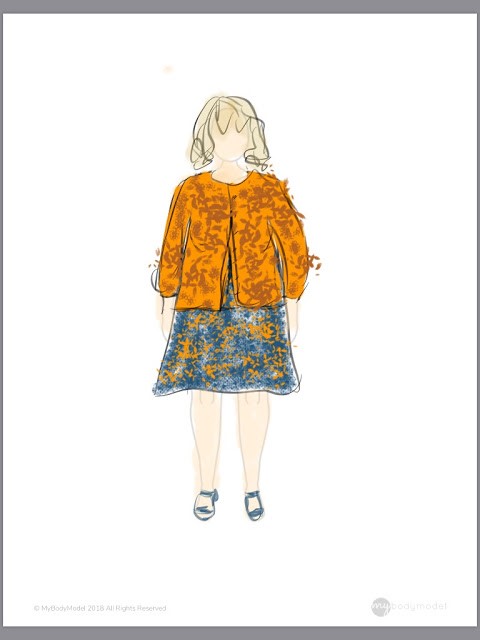 Textured cardigan worn over a printed dress
This is a drawing of me wearing the Gambier Jacket I recently finished making for my husband Paul. You see, MyBodyModel can also be used to design knitted garments. How fun is that?
When I joined the Ready To Wear Fast in January and later participated in Me Made May I never dreamt I would jump on this clothes making bandwagon with such fervor. I must say being involved with these two fun social media events and now using the MyBodyModel app to design and audition patterns has given me a new confidence that I have never had before. I know my arms are flabby and I have rolls on my tummy and love handles on my back BUT I feel beautiful and proud making my own clothes and wearing them confidently.
Diane has been sewing and creating since she was 12 years old.  She started as a garment sewist and has dappled in cross stitch, scrapbooking and various crafts before discovering quilting in 2003. She spends long days in her sewing studio and has rediscovered her love of garment sewing and knitting in the last few years. She loves traveling with her husband of 47 years, large family get-togethers with her 4 sons, their wives and 10 grandchildren. She also enjoys photography and gardening. Diane recently started a business hand dyeing yarn. You can find her on Instagram @diane_stanley_sews_and_knits and  @dyelotsstudio. Her yarn is available for purchase in her Etsy shop, Dye Lots Studio.