The responses to MyBodyModel continue to blow me away.  Here are a few more customer reviews (and sketches!) from the last few days of our beta launch week.
"Okay, I got up the nerve to punch in the numbers. How amazing to see my body in this app! Suddenly I feel validated and "okay" after years of fighting with body image issues. 🙏 @mybodymodel I can't wait to start using this for sewing inspiration!" Charlene @craftstashns
"Thrill to draw on something that looks exactly like me. Thanks for all the work that went into making a croquis that looks like my body."  Cindy @cdoertel
"Have you all seen this!? Based to your measurements! Not the impossible standard croqui most fashion designers use. It takes about 20 minutes to measure and input the information. And then BAM! Your croqui is ready. You only pay when you're satisfied and ready to Download. This is going to me a game changer for me. While I'm 6' tall and probably close to the "standard" 6-head high croqui the rest of me isn't. The awesome curvy based croquis that have come out recently capture my fuller bust, but not height. But now I don't have to worry or mash up croquis from different sources! Not affiliated with this is any way. Just an excited sewist. #gamechanger"  Kimber @kimbercrow1988
"💞Latest obsession: using @mybodymodel to get the ideas out of my head and onto paper! 💞✏📒 I think I may ❤ drawing in the hairstyles as much as the clothes 😋 " Mac @macsmakespace
Mac @macmakespace has fun sketching her sewing plans along with the perfect hairstyle to go with each outfit. 
"I kept seeing the new croquis program from @mybodymodel pop up on my feed, so I really wanted to give it a try. It is so neat to have a model that is just my shape to draw different designs on. I've been debating if could pull off the cropped version of the @closetcase.patterns#jennyoveralls , but after drawing out the different lengths, I think I'm going to go for it." @sewingrogue
@sewingrogue used her body model to test out different views of the new Jenny Overalls pattern by Closet Case Patterns.
Now, I'm no artist, but I'm really pleased with how these sketches worked out. I just used my custom croquis I made on @mybodymodelto decide which version of the #yorkpinafore by @helens__closet I want to make first. As it's summer, I'm going with View B in some black canvas I've had knocking around forever. This process also helped me clarify that the mix and match view I'd been imagining, wasn't for me. I'm in love with the fact I've got my own set of croquis made to my exact measurements to plan my knitting and sewing makes onto! Thank you @lovetosew.podcast for telling us about this awesome tool! 🙏😍 ✂ Lisa Margreet @lisamargreet
@LisaMargreet used her body model templates to try out different pattern views of the new York Pinafore pattern by Helen's Closet.
Rachel @fitzgeraldmcnamara uses her body model templates to sketch out her knitting plans.
"Yall I'm obsessed with the new @mybodymodel app!! I'm no artist and I'll be coloring this sketch in with my toddlers crayons until I can get some proper sketching tools, but I'm beyond thrilled with my custom croquis!! How cool is it that we can now sketch sewing plans on our own body replicas!! You've got to check out this amazing app from @stitchinschmitz! Thank you Erica for providing an amazing tool to the sewing community!! Any guesses on what I'm planning to sew based on this sketch???" Jaylyn @jaylynpace_handmade
Featured image: MyBodyModel template sketch and photo by Jaylyn Pace.
Thank you to all who have created and shared their body models over the last week.  I'm so excited to see more sketches using your new custom croquis from MyBodyModel! If you post on social media, please be sure to tag us
and @mybodymodel. I will only share your words and images with permission.
Happy Sketching!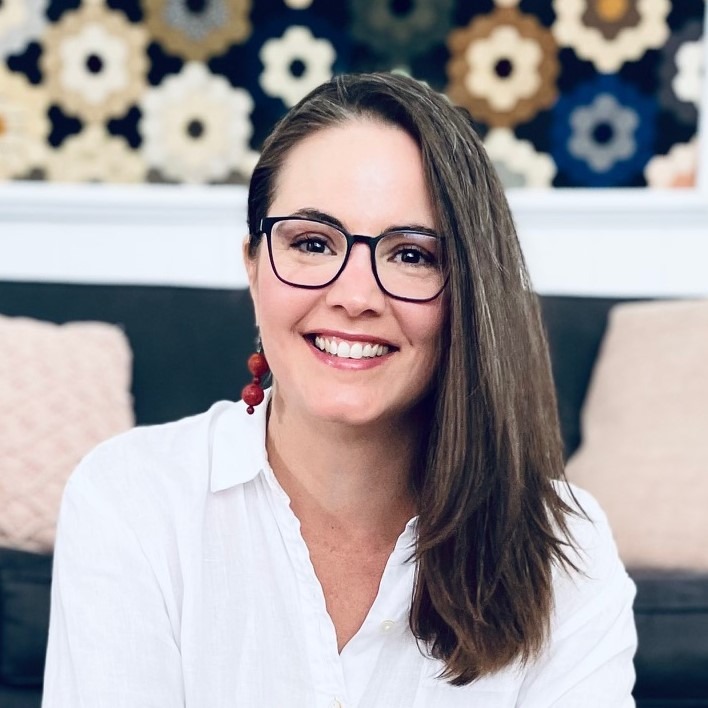 An obsessed garment sewist with a passion for body-positive fashion drawing, Erica founded MyBodyModel in 2017 and led the company for more than five years before it became part of Cashmerette in 2023. You can find Erica and her beginner-friendly drawing classes & style workshops at Illustrated Style School and  @illustratedstyleschool.