This month's featured designer is the amazing Katie Kortman: artist, fabric designer, creator of the #thehandmadehustle, #sewhappycolor, and #posingwithproduce! Katie has brought so much fun and joy to the online maker community. I'm absolutely delighted to share some of the ways she's been using her custom croquis from MyBodyModel as part of her colorful design process!
---
Recently, Katie posted about her MyBodyModel experience on Instagram:
"I became a convert to this way of planning out my makes a couple months ago. MyBodyModel gave me my own personal croquis to try out, which I made by putting in all my measurements. It has been fantastic for visualizing the garments on my body!!"

"I think everyone should have one of these and not just designer croquis that look nothing like their real body."
What did you use to draw your design ideas before MyBodyModel?
"Before I used my body model I usually drew clothes to design stuff, but not on a body. It was more just getting ideas for how I might do a sleeve or colorblocking. Using my personal croquis has been a game changer!!!"

In what ways has using your body model templates changed your design process?
"Now I can see how those ideas might look ON MY BODY!! I can not only visualize design details but also what is most flattering on my shape, or how a pattern or design might lay on my body. It's just so much more helpful in making choices before I cut a pattern and sew."
---
Here are just a few ways that Katie has been using her body model templates… And what she had to say about it!
---
Choosing the right sewing pattern for a special fabric

"This fabric made me let out an audible squeal the moment my eyes laid on it." The fabric is from @measurefabric and it's a silk cotton.
"I couldn't decide so I drew my three ideas on MyBodyModel personal croquis and it REALLY helped me make my decision!! Seriously. I normally would've fretted for days unsure. But once I'd sketched them out and thought about the stripes, I knew which one really 'sang to me.' Any guesses which dress I chose? Which would you have done?"
Katie chose Simplicity dress pattern S8888: "I figured the other two weren't practical makes for the approaching heat, but flutter sleeves are so nice and breezy for the armpits."
"I'm OBSESSED with the final dress. My dress looks like 😭😭😭 so good in it. Ah!!!"
---
Planning pattern hacks
Another special fabric was Katie's red and fuschia Dash printed rayon poplin, from her new exclusive fabric line for D&H Fabrics.
Katie knew that the drapey fabric would be perfect for the McCall's M7834 dress pattern – But what view to choose? She also wanted to test out some pattern hacking ideas:
Katie decided to go all out with the maxi-length View D, plus an added necktie hack:
Outfit planning for a big event
"I recently used my body model again to figure out what I wanted to wear to Tabitha Sewer's epic meetup in NYC."
Pattern used: McCall's M7834 dress pattern
Fabric: Katie's design, from Spoonflower (one of Katie's designs)
Crown: Made by Katie from melted plastic beads!
Here is the final outfit as worn on the streets of New York City – crown and all!
Designing a patchwork dress
"I had had a vision of a patchwork dress for ages. When I received my Fat Quarter Bundle of Valori Wells Murmur Fabrics by FreeSpirit Fabrics, I knew immediately what I was going to do with them. This pack contained so many fun designs and colors that were perfect for doing some color-blocking and patch working on the Saraste Dress by Named Clothing. I like to start my projects using My Design Line Sheets for planning and My Body Model for seeing how the pattern will look on my figure!"
"I really loved how it all turned out and my vision worked!! I have a colorful patchwork dress that is super fun, bright, and yet as comfortable as a longggg shirt. WIN!"
To see the step by step of how Katie made this patchwork dress, check out her full blog post about it.

---
Fun with colorblocking
Katie also used her body model templates to design her fabulous color-blocked version of the Lena Horne dress by Tabitha Sewer .
"I love color-blocking anything I can!!! So I ordered some fabric from D&H Fabrics, Fancy Tiger Crafts, and used some leftover scraps from Stonemountain and Daughter to create the color scheme of my dreams!"
For a step-by-step of Katie's color blocking process, check out her full blog post about it.
And here is the sketch alongside the final dress!
Thank you, Katie, for sharing your design process with us!
---
Are you inspired to design your own colorful outfits on a croquis of your body? As a tribute to Katie, we're offering a special discount to get your own body model fashion templates! Enter promo code: KATIEKORTMAN for 15% off any purchase of 1-5 download credits to MyBodyModel by June 27.
---
If you aren't following Katie yet, here's where to find her colorful designs and excellent dance moves:
Instagram – Blog – Spoonflower – D&H Fabrics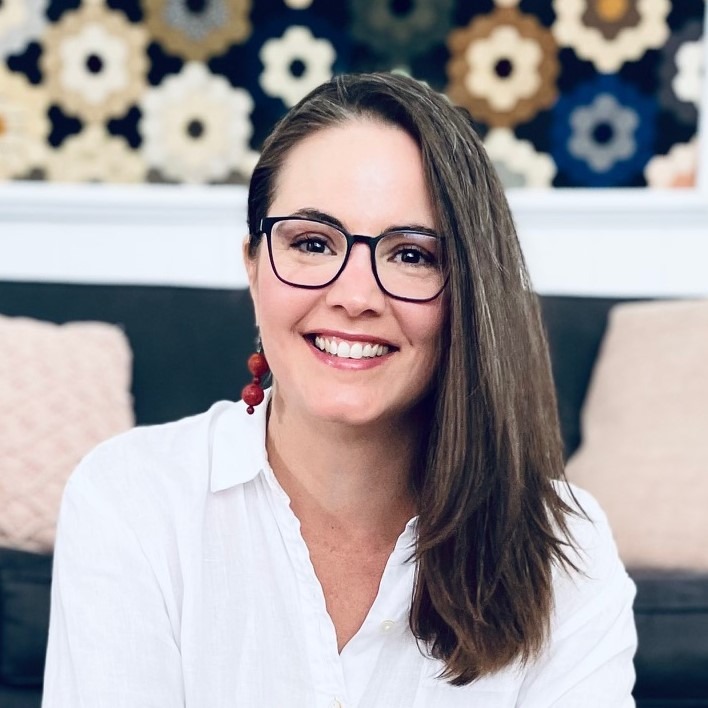 An obsessed garment sewist with a passion for body-positive fashion drawing, Erica founded MyBodyModel in 2017 and led the company for more than five years before it became part of Cashmerette in 2023. You can find Erica and her beginner-friendly drawing classes & style workshops at Illustrated Style School and  @illustratedstyleschool.