Jewelry and accessories designer, Kathryn shares how she's been using her MyBodyModel fashion templates to channel her many design ideas. The result: a cohesive and creative me-made wardrobe that works well for her body and her style – including accessories, of course!
.        .        .        .
A friend told me about the MyBodyModel website and the ability to sketch out ideas, and 'try on' garments on your body. This is right up my alley – I do sketching and design for my clients all the time. I can draw really fast, so getting out a bunch of ideas comes really easily.
Over the years I've sewn for myself on and off but my home made wardrobe really started taking off when I began incorporating textiles into my business. I've been designing and making custom wedding rings for the past 20 years. One of my clients asked me to make a tie for his wedding. People loved it and sure enough, sewing custom ties has become part of my business. As I became more involved in the sewing community, I decided to aspire to an entirely Me Made Wardrobe.
What I really needed was a way to focus. To put together the random fabrics I've collected in my stash, the great patterns I've picked up, and my own design ideas, while fitting it all into a wardrobe that's wearable and helps me to have all the right things. I can't have 12 tops if I've only got 1 pair of jeans. What the heck kind of pants should I make? Why make three pairs of leggings if I don't have any tunic length items in my closet to wear with them?
Now with MyBodyModel croquis, I draw my wardrobe to see it in a cohesive way. To see what I have, and what I should be working on. I can make adjustments to patterns, or draft new patterns that look best on my body, and I can match up patterns with my fabric stash. 
The MyBodyModel 12-croquis template is perfect for sketching out a bunch of variations or options. Recently I sketched out a bunch of pants to see what fit works best on my body:
My goal is to reduce my wardrobe to 50 items, of entirely Me Made items or purchased from local designers and makers. The MyBodyModel Project Planner helps me to visually focus and put together outfits and decide what to make next, and what to edit from my wardrobe. 
I keep my MyBodyModel Planner pages and sketches in a plain 3-ring binder
Using the 3-croquis templates, this drawing set is part of my wardrobe planning binder to help me focus my "To Make" list for the year. I can see what I've got and what I need.
These first three drawings represent items that I have in my wardrobe that I've made that I consider successful, and part of what I would like to keep in my 50 garment collection:
Pictured above, from left to right: Self-drafted grey linen dress with grey ancanthus leaves scarf, and long leather fingerless gloves. Navy Robert Kaufman printed chambray Farrow Dress with Megan Nielsen Virginia leggings and a self-drafted crocheted merino wool shrug. Self-drafted grey and white gingam sleeveless sack dress, styled with a (store bought) merino wool off the shoulder grey sweater and infinity scarf.
I also like to use my body model templates to try out different patterns, fabrics, and outfit combinations:
Pictured above, from left to right: Wiksten Haori (not yet made, fabric not selected) and Vogue V8379 wrap dress in black cotton knit. 3/4 length sleeve jacket (pattern not yet determined), using fabric from my stash, Wiksten tank using teal mystery fabric from my stash, and Morgan Boyfriend Jeans. Green linen drop waist dress gifted to me by a wonderful maker friend, with a denim bolero adapted from Vintage Vogue Pattern 2267 – an original 1954 design.
Pictured above, from left to right: Self-drafted raglan hoodie shrug in black knit, Megan Nielsen Virginia leggings in black cotton knit, and McCall's M7116 dress in black eyelet. Short-sleeved button down collared shirt in mushroom print cotton from Simplicity 3789 Khaliah Ali Collection (pants pattern and fabric not yet determined). NewLook 6781 pleat front blouse with ruffle cap sleeve (pattern view D) in polka dot cotton with lace trim and denim Moss Skirt, short version.
Sketching on my body model is also an opportunity to revisit some of those patterns that have been in my stash for a long time:
Pictured above, from left to right: Jumper in printed fabric (yet to be purchased) made from version G of McCall's pattern 7191. The last time I made this one was in the 90's… Dress in some kind of fabric with contrasting trim made from Vogue V8897. I made one last year and wore it to death. Added pockets. Dress to be made in plaid or print fabric to be determined, from Vogue 9683 version A with a modified skirt. Will add pockets. Last made in the 90's.
I also like to use my body model to 'try on' new styles. These designs were all ideas that I liked and wanted to try on: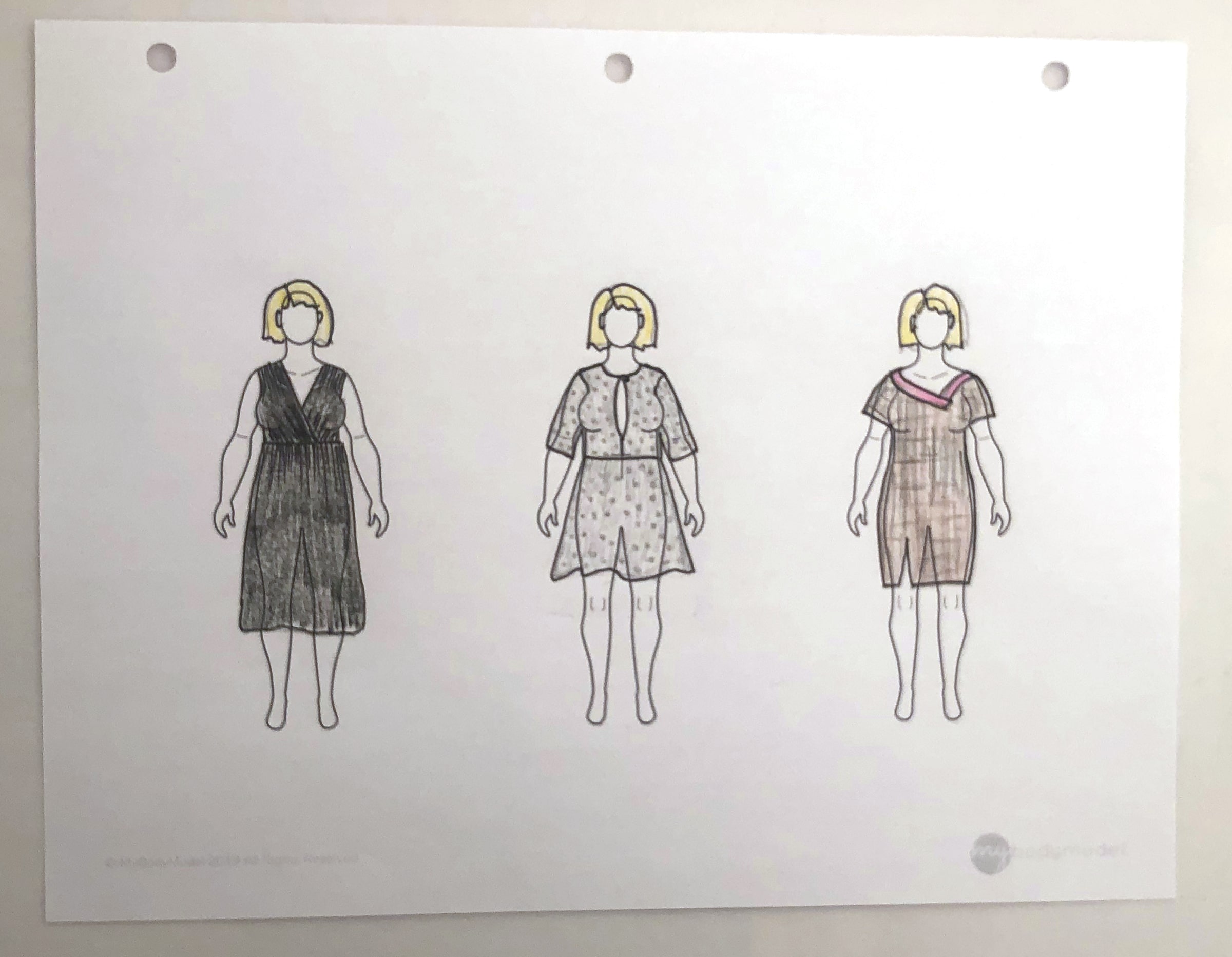 Pictured above, from left to right: Black knit cotton dress from McCall's M7116 version C with no cap sleeve. Leopard print dress, adapted from a dress I saw on Pinterest, using a leopard print chiffon in my stash. The third dress is another 'try on' from a dress spotted on Pinterest. I don't like it on my body model, so unlikely to pursue.
As a designer, I get great ideas in my head, and in spite of having literally hundreds of patterns, and no actual formal training in pattern drafting, I dream up garments to make from scratch. "What I need is something with a boat neck, a high waistline, and pockets!" I do my best to draw it up, start making muslins, and eventually assemble the piece, and hope that when I actually try it on, it will look good. Shopping for fabrics, when something catches my eye, I pick it up. Usually I have a general idea in my head like "this would make a great jacket!" but no particular plan.
The drawings below are dreams for a complete wardrobe. None of these garments have been matched with patterns or fabrics yet.
The yellow top is a nice bright yellow with an interesting neckline. Using the croquis has showed me that a crop might not look bad on me. I would like to add colour and interesting pieces. The pants are a linen wrap pant, baggy and comfy. The pink wrap sweater with red bow is likely something I will find in my pattern stash somewhere. The skirt is a multi fabric, or patchwork handkerchief hem wrap skirt. The third top is a linen draw string top, with striped palazzo pants. Also drawn are short leather fingerless gloves (I've tried some glove samples but nothing yet that works as something I can wear) and a little red bow neck tie.
Here are some of my completed outfits so far:
Farrow Dress

made with Robert Kaufman chambray floral denim (top sketch)+ denim bolero, adapted from a vintage pattern (bottom sketch)
Self-drafted grey and white gingham sack dress (top sketch) + self-drafted black knit shrug (bottom sketch)
Self-drafted grey linen dress with acanthus leaves bow and knitted fingerless gloves instead of leather
My next goal, now that I've been drawing with my croquis, is to make fewer sack dresses, and more fitted garments. My body as a mom is shaped differently that it was pre-babes, and my instinct was to simply hide it. The drawings show me brave new ways to approach my wardrobe. Hopefully I will continue to grow into colourful, dynamic Me Made clothes that are really me.
What are your wardrobe goals – and how have you used MyBodyModel to help you make those goals come true?
.        .        .
Kathryn Dieroff has returned to her hometown of Hamilton, ON and brought her impressive body of work with her. After establishing herself as a force in the Metal Arts community, Kathryn opened a retail jewelry store in Toronto that rose to be one of the top ten jewelry stores in Toronto according to Now Magazine and BlogTO. Setting down roots in Hamilton with her family five years ago, Kathryn has created a studio in which she hand crafts custom wedding and engagement rings, creates a collection of unique handmade heirloom jewellery, and designs and makes a textile collection for men and women. You can find her designs at www.smithandtailor.com. Kathryn has been successfully running her business since 1999, but has been a maker for a lifetime.