The end of 2019 has arrived and 2020 is quickly approaching. The New Year brings out all sorts of planning and creativity for me. It's an opportunity to dive into something new and start fresh. I am embracing this time by planning 20 garments for 2020. That's right, I created a plan for making 20 garments in one year. Although that requires a high sewing output, I realized that I can absolutely do it.
I approached this challenge by breaking my makes into seasons, with two looks for each season. Let's get to it!
WINTER 
My winter outfits are focused on layering and feature two hand-knit items.
The first look is a dark green knitted cowl, color blocked Tobin sweater, and indigo Ames jeans. I don't have a specific pattern in mind for the cowl but I knew I wanted to include a project that would get me back into knitting. I am still very much a beginner and a cowl would be a great re-entry into another creative outlet.  I paired it with a caramel and cream Tobin sweater that gives me 70s vibes. I've made a different view of this pattern and I am excited to try the classic sweatshirt view. I added the Ames jeans because the fit is amazing for me and I need to make more stretch jeans. It doesn't hurt that I stocked up on denim last winter.
The second winter outfit is a light green Ursa sweater, mocha Glebe pants, and orange All Well Cardigan Coat. I've made two pairs of Glebe pants and the fit is amazing right out of the pattern envelope. Ultimately I'd like a wardrobe full of Glebe pants. I wanted to make them in a rich neutral color that could be paired with my current makes. The All Well cardigan coat was recently released and I immediately knew I wanted to make it as a layering piece. The bright orange color elevates a simple silhouette to a chic garment.
I included the Ursa sweater because Jacqui's design is beautiful yet approachable to me as a beginner knitter. I've already purchased yarn and done knit a swatch to check my gauge. Now I actually have to knit it!
SPRING
The spring looks feature my interpretation of pink lemonade, one of my favorite drinks for the season.
My first look is a hot pink Cashmerette Rivermont dress paired with a mustard Blackwood cardigan. I've made the top version of the Rivermont but not the dress. I think it'll be perfect for work with the pop of color that I love. The shorter view of the Blackwood cardigan is a great layering piece for the office and can be worn over multiple seasons. I think the color of the cardigan pairs well with the bright pink dress.

The next spring look includes a white Concord t-shirt, neon green Pona jacket, and magenta Glebe pants. The concord t-shirt is one of my top five patterns of all time. It fits well, has multiple customization options, and is easily constructed. I knew that I needed a basic white t-shirt that would pair with everything in my closet. I added the Pona jacket in this bold color because it gives me boss blazer vibes. I think it can be worn with a variety of garments (including my neon green Glebe pants for a full neon suit!) and will add a touch of fun to any outfit. The magenta Glebe pants are the bright sister to my fall version. They are playful and practical at the same time.
SUMMER
For my summer looks, I went with my favorite color – royal blue. I started with a Cedar dolman dress and a coral Quince robe. I have some viscose linen noil in my fabric collection that I've been saving for a special garment. I think the design lines of the Cedar dolman allow the fabric to really shine. I paired it with a summery, peachy Quince robe. I have a linen blend that would work well for this pattern. The pockets might be my favorite detail.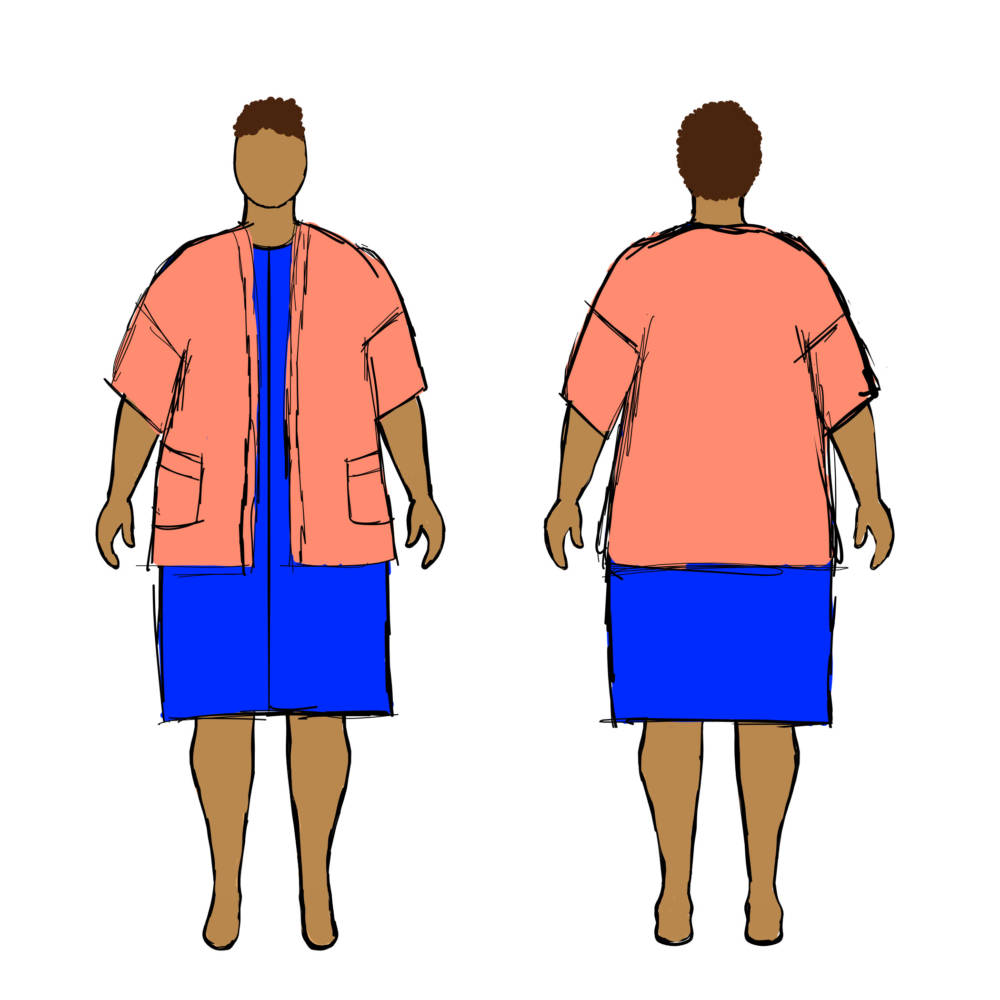 My second summer look features the Ipswich swimsuit and Serpentine hat. I picked up some swimsuit fabrics in an end-of-season sale that will work well for colorblocking the Ipswich. I really want to make this pattern because it includes a bra and optional piping detail. Those are two techniques that I haven't tried yet. This summer I want to lay by the pool in a custom bathing suit that I feel amazing in. I chose the same neon green for the Serpentine hat. I haven't been able to find comfortable hats in stores, so I thought I would make my own. It will provide necessary shade for my face along with a touch of sass.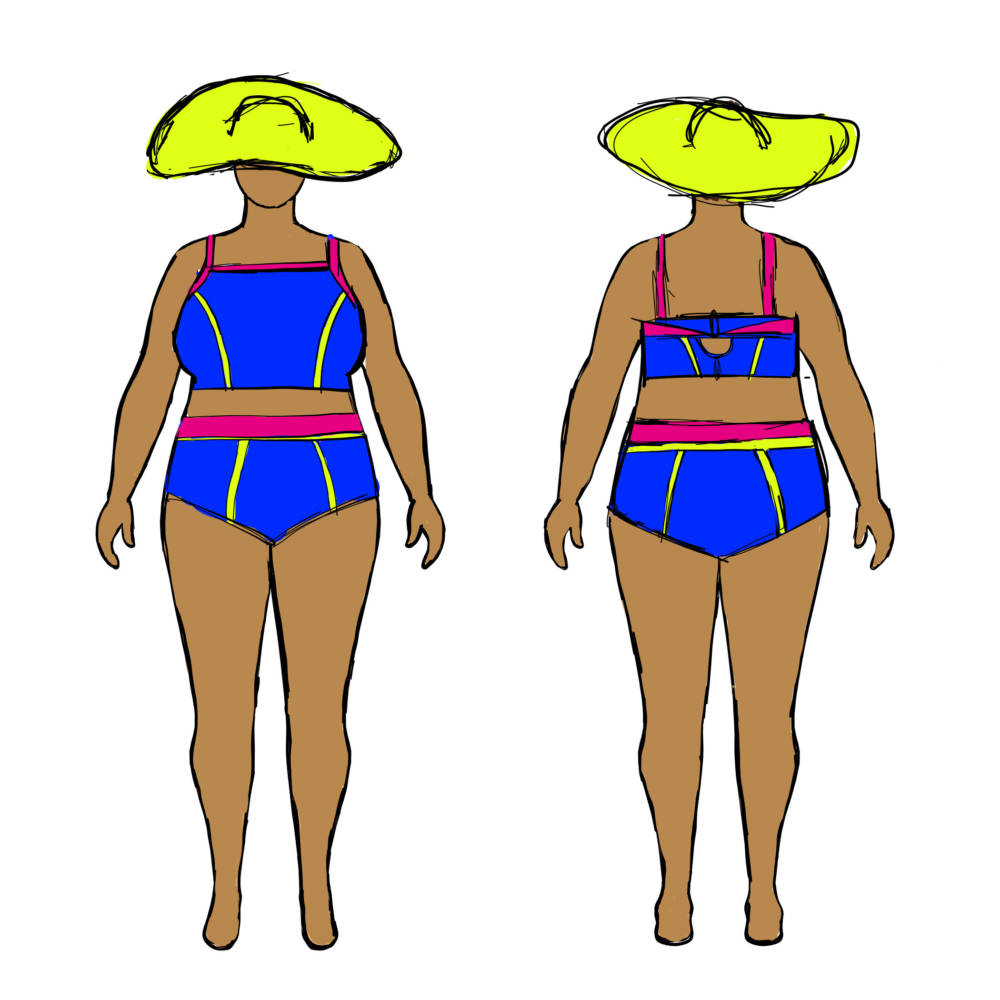 FALL
My final two looks are for the fall! My fall looks center around one of my favorite colors – mustard. I don't know when my love for this golden shade of yellow began, but it has become one of my favorite colors to create with. I chose a burgundy Elliot sweater from Helen's Closet paired with mustard Dawn jeans from Megan Nielsen.
As the nights get cooler, I tend to want more plush and comfy clothing. I've made a couple of Elliot sweaters in the past and each of them is very comfortable to wear. I haven't made the dawn jeans yet, but I am eager to work with a non-stretch denim pattern. I have some mustard denim I picked up for a different project that is still sitting in my stash and it is itching to become a pair of straight leg jeans.
My second fall look features caramel Belmont leggings from Cashmerette along with a mustard Flor cardigan and teal Ace top from Seamwork. Leggings and a cardigan just scream fall to me. All you need is a bonfire and cup of apple cider. I stuck with the mustard and earth tone theme but added teal for a pop of color. I have a mustard French terry in my stash (no surprise here) that is incredibly soft. I think this Flor cardigan will end up being a bit of a workhorse in my closet since it can be worn in three seasons. I've made both the Ace and Belmont patterns before and they are really great basics that will extend my wardrobe.
Planning 20 garments for 2020 was easier than I expected, and I really enjoyed this 20 for 20 challenge. It allowed me to think more in terms of outfits than individual garments. It also helped me define my style a bit more. I am so excited to plan out these makes and check in along the way. 
Have you planned any makes for 2020? What's at the top of your list? Let us know in the comments below!
For more outfit inspiration, check out more posts by Sierra!

Sierra is a native of Richmond, Virginia. She is a veterinarian by day and avid sewist by night. Sierra began sewing at the end of 2017 as a meaningful therapeutic outlet. It quickly became an important part of her life as she discovered the joy of making clothes that fit her body and style. In addition to sewing, she enjoys listening to podcasts, cooking all sorts of things, spending time with her family, and learning how to knit. She currently lives in Atlanta, Georgia. You can find her makes on her Instagram @SierraBurrell and blog.