There are many digital drawing apps that you can use for fashion illustration with MyBodyModel. Doctor T tried out nine different drawing apps on her iPad, including free and paid options. Read on to see how she reviewed and scored each one!
---
MyBodyModel is a recent addition to my sewing planning process, as is the iPad Pro and Apple Pencil that I was gifted for the holidays. While I love the feel and process of working on paper, I'm finding that I increasingly enjoy working in a digital format, and this is amplified with the precision of the Apple Pencil. Being fairly new to digital art, I went on a quest to find my favorite apps for drawing on My Body Model custom croquis to create my digital wardrobe plans.
Free Apps for Fashion Drawing
There are tons of free digital art apps on the market that are fantastic to use with My Body Model for digital sewing planning and fashion design. Most of the "free" apps have in-app purchases that unlock additional features, but I don't think any of these apps require those purchases to be made to have the app be "worth it" to use. While I've made many of the in-app purchases for the apps I know I will be using a lot in the future, I was able to create designs and plans without needing to purchase any of these added features.
Adobe Draw is a free vector drawing app for the iPad, which has the expected Adobe quality. It creates very sharp, clear images and can create a bold, eye-catching plan.
The Adobe Draw app has a very simple layout with only a few brush options. It is very intuitive to use and creates very clean designs.
Pros: Adobe Draw is very simple to work with, and visually very clean, which allows you to focus on the drawing, not the app. It can import and export many image types, and works with vector images, so it has extremely sharp quality, even when zoomed in very close. This is great for working with the My Body Model images that have more than 4 forms to a page. Layers are great for adding depth to the drawings, or playing with mixing and matching garment pieces.
Cons: Very few brush types available. I really only found two that I liked to use in this app, and the resulting images will all have the same inked appearance.
Cost: Free, or incorporates with Adobe Suite with a paid subscription.
Rating: 6/10
Adobe Sketch is another free app for the iPad, and can be seen as a companion to Adobe Draw. This program creates less sharp, "sketchy" style images.
Adobe Sketch is very similar to Adobe Draw, but has tools like pencils and watercolors to create a much softer image.
Pros: This app has the same benefits as the Adobe Draw program, with the exception of the cleanliness of the images. Because this is not a vector program, the quality does not scale with the zoom. On the plus side, I think this app had the best "pencil" brush of everything I tried – the response to the pressure sensitivity of the Apple Pencil was fantastic. I also really enjoyed how simple it was to use – it was very intuitive to import an image, add a sketch layer, and start drawing.
Cons: As with Adobe Draw, this app also has very few brush types available, and again I found that I really only liked using two or three of them to create the My Body Model sketches. I found that I enjoyed drawing sketches more in Adobe Sketch with the pencil, but I enjoyed the Adobe Draw app more for coloring the designs.
Cost: Free, or incorporates with Adobe Suite with a paid subscription.
Rating: 6/10
---
Update: Since the time of publication of this review, Adobe has launched a new drawing app, Adobe Fresco. This new app combines Adobe Draw and Adobe Fresco, and Doctor T wrote a step-by-step Adobe Fresco tutorial to cover the basics.
---
SketchBook is a nice app that I loved for coloring. It's a great all-in-one app that provides a lot of functionality.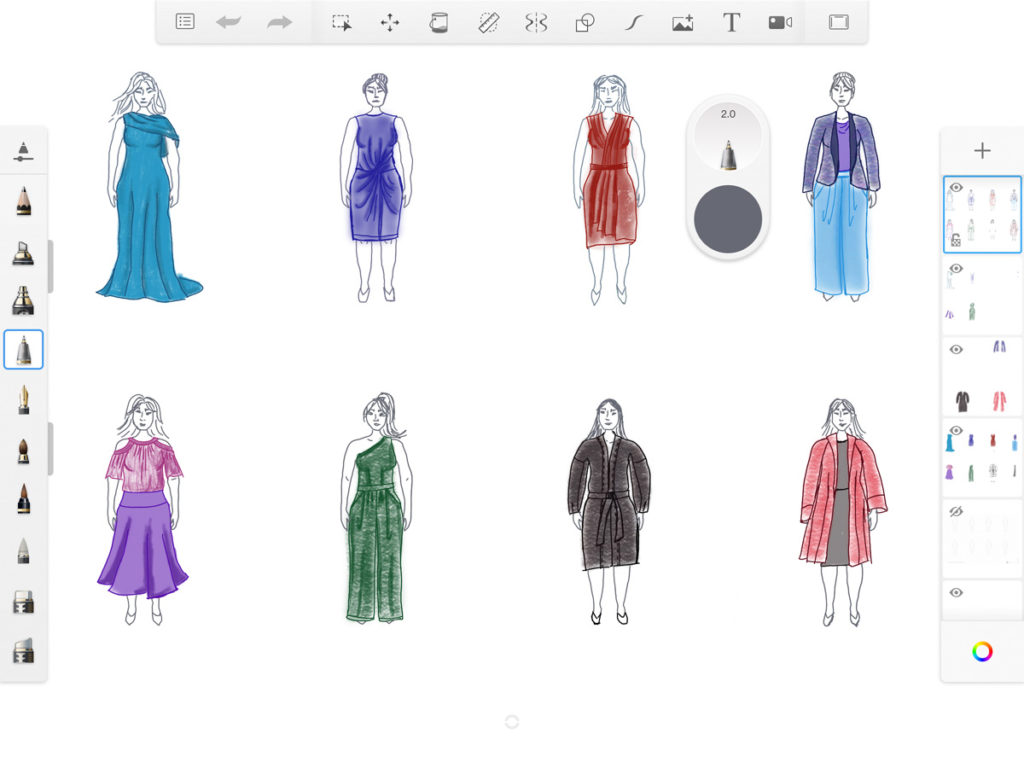 SketchBook offers easy access to all of the drawing tools and program options in simple to use side panels.
Pros: SketchBook has lots of great pens/pencils/brushes allow for a fun drawing experience. Everything is on the screen, but it doesn't feel cluttered or overwhelming. The app is very intuitive to use, and doesn't feel like it clutters up the drawing surface too much. Although this isn't a vector drawing program, the pixelation isn't as bad as in some of the other apps, so it is a bit cleaner to zoom in for some fine detail work.
Cons: This app feels like the runner up app for me. It's almost as good at Procreate in terms of coloring in designs, but I felt I had more options in Procreate. It's not quite as clean as the Adobe apps or Concepts in terms of visual clarity (because it isn't using vectors). The gallery view isn't quite as nice as the Sketches App or Notability for organizing. It's a case where I felt everything was good, but nothing was great. I like this app, but when I think I want to draw, it's not the one I find myself turning to first.
Cost: Free
Rating: 7/10
---
Want to try the Autodesk Sketchbook free app for digital fashion drawing on your tablet? Check out MyBodyModel's step-by-step video course for beginners, "Digital Paper Dolls" at Illustrated Style School and learn to draw digitally on your tablet using Autodesk Sketchbook for iOS (iPad) or Android tablets.
---
Concepts is a vector drawing app that is marketed as more of a productivity app than as an art app. It has a lot of slick features that make it great for sketching out ideas using the My Body Model images as a starting template, and it certainly gives a "professional" feel to the workflow.
The Concepts app has a very different feel than a lot of the other art apps on the market. It has a lot of handy tools for architects and designers who are creating designs as part of a profession.
One of my favorite features is the custom palettes – it allows me to group colors from my wardrobe plans into a single location and have them all easily accessible while drawing.
Pros: The vector drawing in this app makes the images very sharp at any level of zoom, and the canvas is infinite. Custom color palettes allow easy use of having your wardrobe colors easily at hand. This app has my second favorite "pencil" brush, and even then it is a very close second to the Adobe Sketch program. And even there the clarity of the vector graphics might be winning me over in Concepts, so all told I think Concepts gets the point here. I also love the eraser tool in this program. It might sound weird to love an eraser, but some of the other apps were maddeningly slow at erasing, even set to 100% opacity. I mean, I want the feel of paper, but not if it means rubbing out mistakes for 10 minutes. I found the opacity settings for the eraser to be amazing – just a light removal at a lower opacity and a single swipe removal at 100%. Awesome. Another thing I love about Concepts is the pressure response on the Apple Pencil – it's absolutely fantastic in this app! I feel like I'm still learning all of the amazing features that are packed into Concepts, but luckily there are several YouTube tutorials out there that I plan on using to walk through learning even more of the features of this app.
Cons: The learning curve for Concepts is on the steeper side, and initially it was the environment I felt least comfortable in. I'm still trying to figure out how to see underlying images when I'm trying to move a sketch in a different layer that I've copied and pasted. I'm sure there must be a way, but I haven't found it yet. And, although the app itself is free, additional brushes cost money, though most brush packs have a fairly reasonable price. Once you start buying a lot of add-ons the price can start to jump up quite a bit though. Also, since this is an app designed for those who are working heavily in product development and architecture, there is a certain "feel" to the resulting image which I've found is not quite as versatile as what you can get in other art apps.
Cost: Free app, with in-app purchases of additional brushes, shapes, and tools. I spent $14.99 to get a 10 credit pack, which I've used about half of to buy additional brushes at this point. You can get quite far with the free content, but it is fun to have more coloring options.
Rating: 8/10
MediBang Paint is a free app with a lot of functionality. It is an all-in-one drawing app, with plenty of brushes and setting to play with, and lot of options for creating digital art.
MediBang Paint has one of the busier user screens, because it packs a lot of functionality into app. It feels like a full digital art program for the iPad, and not just a part of a larger suite of tools as do the Adobe apps.
Pros: A lot of functionality for a free app! I really liked the way the tools blended to create shading and texture for fabric garments, and there are lots of options for each of the brush types. The controls are fairly intuitive, though somewhat overwhelming.
Cons: My biggest issue is how visually cluttered the screen is. It's almost too much going on; I found it difficult to focus on my drawing, and the in-app ads are downright ugly on the launch screen. This program also gets very pixelated as you zoom in, and I didn't find it to be as responsive to pressure differences with the Apple Pencil as other apps. This could be good if you don't have a fancy pressure response stylus, but, on the other hand, if you've paid the money for that feature you sort of want an app that works with it.
Cost: Free, with in-app purchase to remove ads or set up an account.
Rating: 7/10
This is the app I probably have the most prior experience with, as I used to use this on my old iPad mini to sketch designs with a regular stylus. I really like this app because I find it very easy to get a lot of different art styles and the controls for the brushes are always right at your fingertips in a handy sidebar.
I love how accessible the different brushes are, as well as how easy it is to organize your sketches into different notebooks in this app.
Pros: Of the non-vector drawing apps, this one has perhaps the least noticeable pixelation at max zoom. I also love the range of tools available, from pencils, pens, and markers to watercolor and airbrush effects. Each tool also has several tip shapes available, which completely change the behavior of the brush, giving it a lot of hidden versatility. The main controls are pretty intuitive, though I found the "advanced" controls a bit confusing at first. I also like the visual presentation of the "Sketch Book" folders to organize drawings. I can designate one sketch book just to use with the My Body Model drawings for me, one to use for designs for clients, and one to use just for fun. It's a great way to keep things organized if you use this app a lot.
Cons: I still don't feel like I have a great mastery of the color selection in this app. They try to give you a simplified list of colors and then allow you to blend two of them, but I feel like this somewhat limits my options when compared to something like a color wheel. I know there are ways to add colors to the picker, but even now it feels like more work than it should and I usually go back to a default color for simplicity of use.
Cost: Free, with in app purchases to unlock additional functionality.
Rating: 8/10
Paid Apps for Fashion Drawing
With a paid app you are expecting to get something a bit slicker than you would with a free app. While I think the free apps are totally fantastic for use with MyBodyModel, I am more than happy to pay for apps that I use all of the time. Personally, I've found that I've ended up paying for the added features in the free apps I enjoy most, so by the end of this experiment most of the apps I plan to keep using regularly all cost me around $10.
Sometimes just paying up front is worth it because then you don't have to deal with annoying ads, pop-ups, or warnings that you can't use a certain feature. You own the app and you're done. Easy.
Notability isn't really a drawing app so much as a note taking app, but it was how I got into digital planning, so I thought it deserved a mention.
Notability is great for organizing PDFs and digital notes. I use it to store and organize digital planners, instructions, and even eBooks and recipes. It isn't the most sophisticated app for drawing, but if you want to go fully paperless in the planning aspect of creating a sewing planner or sewing journal, then Notabilty is a fantastic option.
Pros: This app is fantastic for general planning and note taking. It works great for quickly sketching out designs, especially if you want to easily copy and paste what you've drawn onto multiple forms to see how outfits will work together, and it's easy to scale things so you can copy from a larger My Body Model form to a smaller one, or vice versa. It's really simple to use, and the app has a lot of functionality for categorizing and organizing your notes/notebooks/plans as well. Personally, I like keeping my planning pages as part of a digital journal in this app and importing the sketch images from another app, but I'll sketch in here if I just want to draw something up really quickly.
Cons: Notability finally has custom colors available, but even then the only "drawing" tools are a pen and a highlighter. There are no layers in this app, and I like to keep the the eraser settings to removes an entire stroke for note taking, which can be problematic in sketching. It's not intended to be a drawing app, so the functionality is limited, but it's what I used to draw up a lot of my first MyBodyModel sketches, so I wanted to give it a shout out.
Cost: $9.99 in the App Store.
Rating: 4/10 for drawing, but 9/10 for general planning, organization, and note taking.
Procreate is a great drawing app that comes packed with a lot of great brushes and tools, and has a relatively simple interface.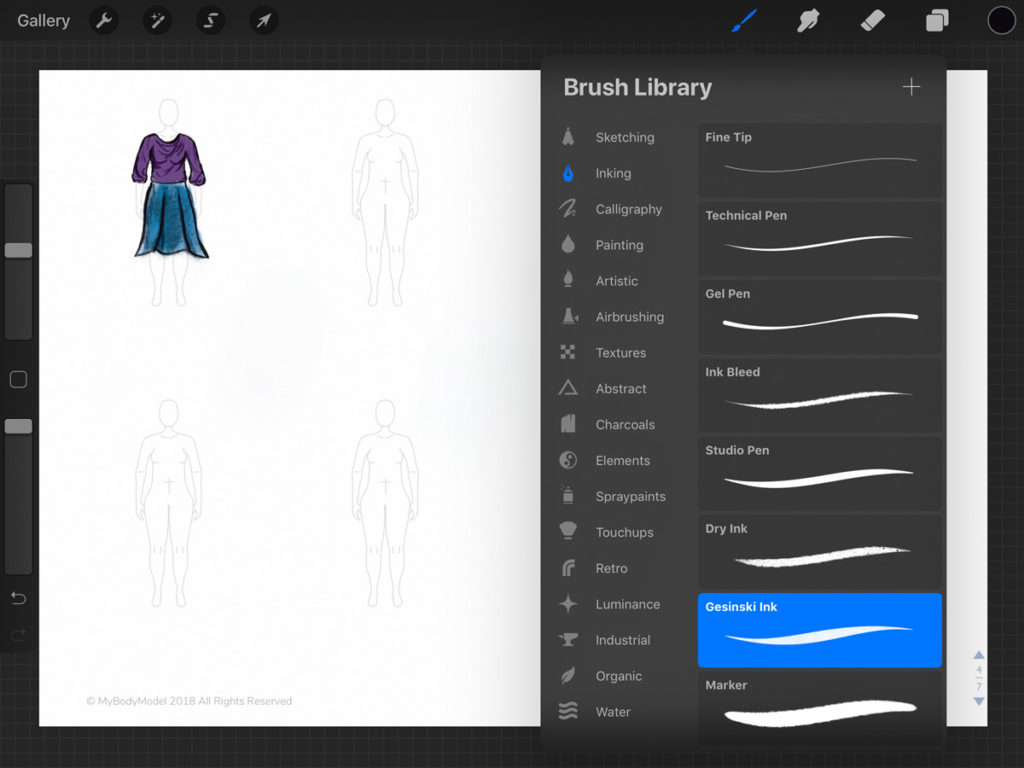 Procreate has a lot of really great brushes and tools built into the app.
I was able to achieve a lot of different visual styles of artwork in my sample page.
Pros: Procreate has my favorite set of coloring tools, hands down. Some of the brushes are simply magic for creating fabric prints and textures in a sketch. The screen feels very clean, and the tools are pretty intuitive. This app has a lot of features and functionality all hidden under a very slick shell. I wanted to play around with as many tools as possible, and each of my garment drawings has a distinctly different feel, which I wasn't always able to achieve in other apps, even when I was trying different brush styles. The versatility of this app is fantastic!
Cons: It's not a vector graphic app, so the designs can be very pixelated when you zoom in quite close for the multi-croquis drawings from MyBodyModel. Additionally, I found the eraser tool to be a bit maddening at first. While the eraser can be set to any of the brush settings – which can be very cool if you are doing layers using a relief style technique in your image – on the whole it feels frustratingly slow if you just want to get rid of an old line. Part of this may be me needing to learn to work in layers a bit more, or becoming more familiar with the app, and perhaps I should not spend as much time erasing and focus more on just adding finishing layers on top of an initial sketch, but regardless I found the eraser tool to be a bit more responsive in some of the other apps I tried. I'm not sure this would be my favorite app to sketch in, but it's definitely my favorite app to color with.
Cost: $9.99 in the App Store.
Rating: 8/10
I really enjoy Sketch Club for the intuitive way the app is set up. I was able to create very bold images that are easy to see even at a small scale.
Sketch Club is a nice drawing app. It doesn't have quite as many options as some of the other apps, but that does prevent it from feeling overwhelming.
Pros: This is a very simple app to use. The controls for the brush size and opacity are always visible, and if you are easily overwhelmed by options, this could be a good app because it provides just enough options to be creative, without so many as to be overwhelming.
Cons: This was another case of good but not great for me. There is nothing wrong with this app, but again I felt like it just didn't quite have the functionality I was looking for. It wasn't as responsive to the pressure of the Apple Pencil as some of the other apps, and it was very pixelated when zoomed in quite close. The "Club" aspect of SketchClub allows you to see digital artwork by others, which shows that you can make amazing images in this app. I just didn't find my personal results to be as inspiring as what I was able to create with some of the other iPad apps.
Cost: $2.99 in the App Store.
Rating: 6/10
Conclusion
All of these apps have features that make them great tools for using with MyBodyModel as part of a digital planning process. In the end I think it depends what you are looking for in an app.
Want something super simple? I'd go with Adobe Draw or Adobe Sketch.
Want an all-in-one notebook planner and quick sketch app? Notability, hands down.
Want maximum functionality for minimum price? Medibang Paint is a great bargain.
Want to create beautiful works of art? Procreate, SketchBook, and Sketches are all great options.
I don't think there is a perfect art app out there – all of these apps have their strengths and weaknesses. But what I have found is that I like some more than others for very specific and often unexpected reasons.
Personally, I've found myself gravitating towards using a combination of Concepts, Notability, and Procreate.
Notability was one of my first app store purchases when I first got an iPad many years ago. I've completely integrated this app into (way too many) aspects of my life, so it was quite natural for me to use it to create a digital sewing planner.
Concepts, however, is a very new app for me. I think I've still got a lot to learn in terms of utilizing all of its functions efficiently, but I love that it uses vector graphics and produces very sharp, clean images no matter the scale. Plus, being able to save all of my wardrobe color palettes in a handy, condensed sidebar tool is a great feature! I love (LOVE!) the pencil and eraser brushes in Concepts – they even smudge like a real pencil!
Right now I'm thinking I may sketch my plans in Concepts and then if I really want to play with fabrication I'd export the sketch to another app (like Procreate) to add colors and textures. The more I use Concepts the more I find it is really giving me the "feel" I like for my planning sketches. I've always enjoyed the rawness of simple pencil drawings, and I'm marveling at the ability of digital tools to recreate this in the Concepts app.
Procreate is also new to me, but I think it might be competing with Tayasui Sketches for me in terms of creating full-color images. Procreate has fantastic brush and stamp tools to quickly create texture, pattern, and depth to an image, and really allows me to give a different "feel" to different fabrics I might plan to work with.
How to find a drawing app that works for you
I'd highly recommend testing out several of the free apps yourself to see which you like the best. I think that the apps you will enjoy the most will depend on what sort of art style you enjoy, and how much control you like to have over the different tools, and how simple or complicated you want your app to be. Hopefully you've found this review helpful in narrowing down your choices. Happy sketching!
---
What drawing apps have you tried for fashion illustration with MyBodyModel? Do you have a favorite drawing app for iOS or Android? Let us know in the comments below!
---
For more digital sketching inspiration, check out these digital fashion drawing posts!
Click here to shop digital fashion drawing courses and beginner fashion illustration classes at MyBodyModel's Illustrated Style School.
---
Did you find this post useful? Please pin and share!
Doctor T works in education creating digital classroom spaces, but tries to find the time to put  into her hobbies of sewing, blogging, lightspeed saber fencing, and judging competitive roller skating.  She started sewing because of a desire to cosplay and make skating costumes, but has become enamored with the idea of sewing her own wardrobe.  You can find her on Instagram @doctortdesigns or on her blog.