Do you ever sketch out your fabric ideas for a sewing pattern? For me, what usually happens is that I'll see a pattern or some fabric and think, "Oh that would make a great _____." And it just comes together in my head. But sometimes you have fabric in your stash and you don't quite know what to do with it. So it would be really helpful to sketch some ideas.  That's where MyBodyModel comes in. It's great for sketching how a particular pattern will look with your fabric – and your body. 
I've been a tester of the MyBodyModel app so I was thrilled to be able to put my custom template to use. I wanted to experiment with patterns for this Ikea linen fabric that's been in my closet for years. It's a heavyweight linen that's a bit stiff – even after I washed it in the washing machine and put it in the dryer.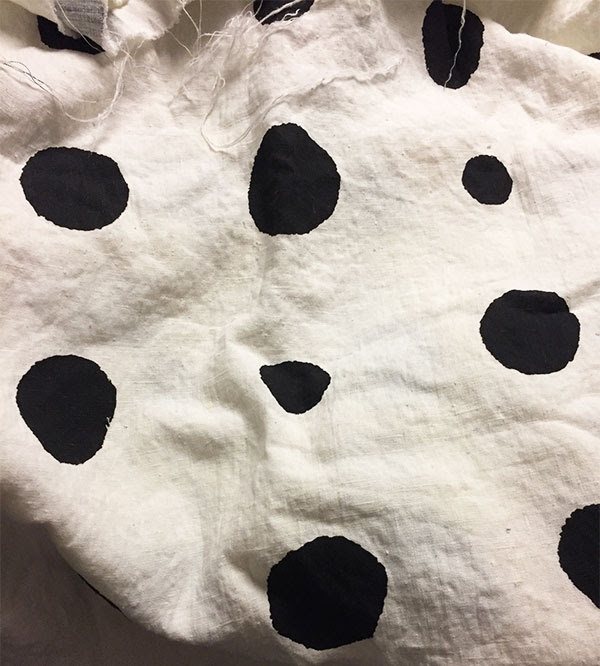 I couldn't quite see what to make from it. The dots are quite large and their placement is symmetrical, which makes it tricky to use as garment fabric. A more random dot placement would have been a more flexible design. Here's a shot of the fabric against my body (please excuse the dirty bathroom mirror!). I have 3 1/3 yards or 3 meters of this 35″ wide (88 cm) fabric. 
I posted an image on Instagram and asked what should I make with it – a jacket, pants – and asked for pattern suggestions. Several people said jacket, but some also suggested a shift dress, a circle skirt, a tote bag and a shower curtain. I eventually decided I wanted to make a jacket and a tote bag. 
Now I had to pick a jacket pattern. One person suggested the Oversized Kimono Jacket by Jenny Gordy, from Issue 4 of Making Magazine.  I really liked the pattern so I splurged and bought the issue for $24.  (This pattern is also known widely as the Wiksten Haori and is now available from Wiksten Patterns.)
I also searched jacket patterns in my stash for possible candidates, selecting patterns that would work with a linen woven. (You can read more about the patterns on my blog post "Choosing a pattern for my dotty linen Ikea fabric.")
My jacket pattern finalists:
Anne Klein Vogue (V1098, out-of-print)
Marcy Tilton (V8620, out of print) and
the Wiksten Haori Jacket by Jenny Gordy of Wiksten Patterns
Next, I printed out a few copies of my MyBodyModel template, the one with three figures on it. I like this one because you can compare designs side by side. The figure isn't too small or too large so it's easy to sketch the main details. You can also print out templates with just one figure on it or with eight figures. 
I just had to try and get the scale of the dots on the fabric accurately represented. So as I sketched, I glanced at above selfie photo to try to approximate how the dots would appear on the different designs. Here are the results, plus hats, which I put on some of the figures. I have a big hat collection so I thought I should put hats on a few of my sketches. (For tips on sketching, check out MyBodyModel's helpful tutorials on fashion sketching for absolute beginners, Part 1, Part 2, Part 3.)
I'm guessing at where the dots would appear at the different seam lines. I like the idea of breaking up the dots and not matching anything at the seam lines. These three patterns each have different seam lines that will be fun to play with. I used some Derwent Coloursoft pencils to make my sketches. And I used some whiteout to cover some of the lines of my figure so I could make a distinction between the jacket lines and the figure.
I used the same figures to sketch out the back, looking at the pattern line drawings to approximate the design. The Marcy Tilton pattern on the far right has a back hem that's longer in the back.
I haven't made any of these patterns so these sketches are helpful.
I really like the look of the oversized Wiksten Haori jacket so I played around with different combinations of color blocking. I wasn't paying attention to the hem length but it should come about mid-thigh so the jacket on the far right is a bit short.
Here's the back view.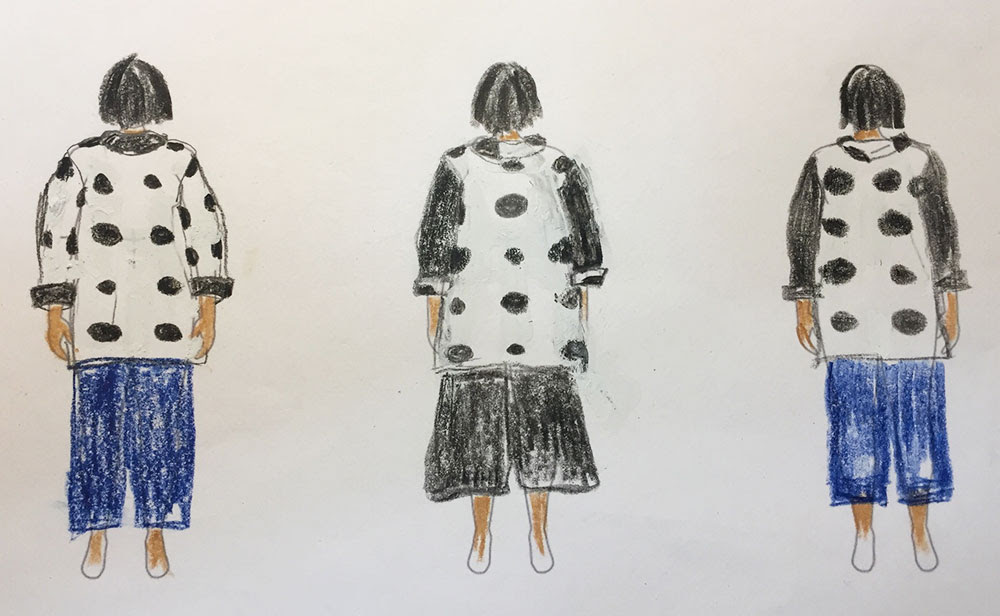 After sketching these three variations, I decided that I'd rather have an all-black version of this jacket. The dots are just a bit too much for me. Also, I'm not sure my fabric is wide enough for the front and back pattern pieces.
My choice? The New Look pattern. I looked at the pattern pieces and see that this design has front and back sleeve pieces. I like the idea of cutting through dots at the seamlines for each pattern piece. The pattern calls for 1 5/8 yards, of 45″ wide fabric (2.2 meters of 115 cm wide fabric). With this pattern, I'd have enough fabric for the pattern pieces and to make a tote bag with the scraps. Yay!
Thanks to MyBodyModel I was able to look at different possibilities for my fabric and make a decision. Stay tuned for the finished version of this jacket!
Chuleenan lives in Berkeley with her husband, three sewing machines and a serger. Her mother taught her and her three sisters how to use a sewing machine when they were young girls. After a long hiatus, she began sewing again and in 2011 she began blogging about sewing and hats at C Sews. Since 2014, she has been the organizer for the Bay Area Sewists Meetup group, hosting monthly meetups for people who like to sew garments.